Mystery Spatula Theater 11
Episode 201 - Fantastic Four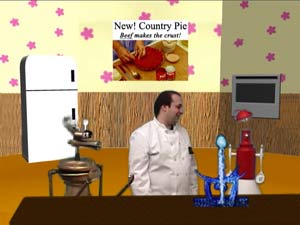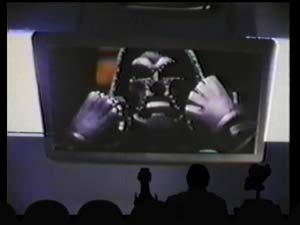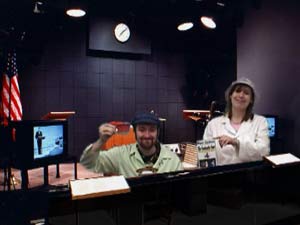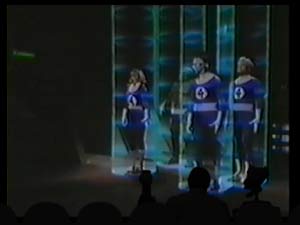 In this first episode of the new season, Max and company take on a challenge indeed, the unreleased Fantastic Four directed by Roger Corman. Can Max and the bots keep their sanity for another episode while still coming up with fabulous recipes? Can they endure Dr. Hotman, bad CGI, and overacting gallore? Will Johnny ever be able to hit anything besides a wall? Can anyone understand Doom? Will Petra always be stuck in Pirate Mode? What is that giant blue thing? And what happened to Pikachu?
Recipe:

Fantastic Four Coffee Cake

Host Segments

Opening: Petra's stuck in Pirate Mode
Pre-Movie: Test Kitchen Stadium
Skit #1: What's that Blue Thing?
Skit #2: A Visit from Dr. Hotman
Skit #3: Magical Trevor
Close: Petra Will Not Fail!

Note: The regular edition DVD of this episode is now sold out. Thanks to everyone who purchased a copy!
We now have a (fantastic) four minute clip of this episode available on YouTube, or watch it below.

About the movie:
Budgeted at a paltry $2 million, The special effects-laden film was set to premiere in 1994. Charity events tied to openings were scheduled. Trailers appeared in movie theaters. And along with director Oley Sassone, the actors embarked on a promotional tour for the film.
But The Fantastic Four disintegrated before film critics could whip out their notebooks.
German producer Bernd Eichinger and his Neue Constantin Films, which purchased the movie rights from Marvel, sublicensed the rights to producer and B-movie king Corman in 1992. Shortly after the film was completed, Eichinger paid Corman $1 million to repossess the rights.
The $2 million version was shelved so that 20th Century Fox and Home Alone director Chris Columbus could make a flashier $50 million-plus version with celebrity actors.
"They showed total disregard for the people involved." said director Sassone. "We had a good film, for what we had to work with."
Apparently the movie was never meant to be released, and was made merely because if production wasn't begun, Eichinger and the studio would have lost the rights to release their bigger version in 2005.